[VIDEO] How to paint a loose watercolour Robin with a wintry background
[VIDEO] How to paint a loose watercolour Robin with a wintry background

I just LOVE to paint robins at this time of year. They are so delightful and always capture the magical feelings of Christmastime. I thought you would LOVE to paint one too, so have put together this FREE Video step-by-step guide just for you.
In this video guide, I show you how to paint a loose watercolour robin with a wintry background. This tutorial is for the intermediate painter. If you have followed my step-by-step beginner's guides, like my Sunflowers or my Autumnal Pumpkin then you would have already been practicing the skills and techniques that are used in this robin tutorial.
To paint the robin we are going to use the wet on dry and wet on wet techniques, which creates some beautiful and varied effects.
A little bit of water control and brush technique is needed throughout the layering process, and this robin is perfect for practicing those skills.
In the video, I work from a photo as a reference, as robins just do not stay still for long enough! The robin photo is available to download on the robin tutorial page, and you can use this photo as a guide too or, if you prefer, you can paint along and pause the video as and when you would like.
What you'll need:
If you don't have the equipment and paints I recommend, get creative and try with what you have handy.
My Robin photo as your reference.
HB Pencil
Mop paintbrushes – Rosemary & Co Size 0/3 and 10/0
Daisy palette (for mixing watery paints)
Water bowl
Paper towel
Watercolour paper (I recommend Arches cold pressed paper)
Paints (see colour list below). I use Winsor and Newton paints.
Paint colours needed:
A yellow colour of your choice (I used Winsor lemon)
A deep pink (I used Permanent Rose)
A reddish-brown colour (I used Burnt Sienna)
A darker brown colour (I used Burnt Umber)
A blue colour (I used Cobalt Blue)
A Black (I use Lamp Black)
If you do paint your own robin by following my video tutorial, I'd love to see your results! You can tag me on Instagram and use the hashtag #jenniferrosegallery so I can see how you got on. You can also find me on Facebook
Make sure you hear about my latest step-by-step guides, video mini-classes and inspiration journal entries – all for free – by signing up for my newsletter.
I can't wait to see your loose watercolour robin!
Love Jennifer Rose xx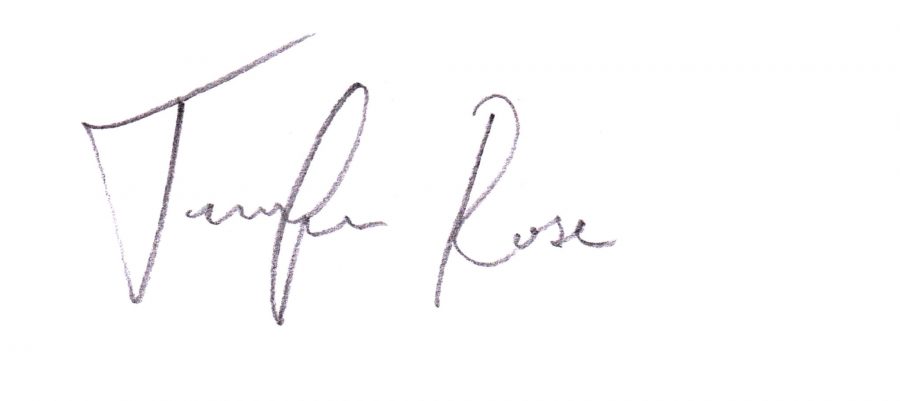 Sign up to be able to leave your comments and thoughts.
The information that you provide here will only be used to deliver relevant updates from me. You can unsubscribe at any time. Click HERE for my privacy policy.