[VIDEO] How to paint loose watercolour roses
[VIDEO] How to paint loose watercolour roses
I hope you'll join me for this pretty tutorial in my good friend Anna Mason's online school, where I show you how to paint some loose watercolour roses with a foliage background using a variety of techniques, including wet-in-wet and wet-on-dry.
This is the very first watercolour class I presented in Anna's school, so it's extra special! Many of you have already taken my loose roses class and the results have been so beautiful and each composition unique.
To make things easier, we'll first use masking fluid to mask out our roses whilst we create our leafy background 'freestyle'. That's what makes this class extra exciting!
Take a look at how to paint loose roses with a background in this FREE VIDEO CLASS.
What you'll need:
If you don't have the equipment and paints I recommend, get creative and try with what you have handy.
My loose roses painting as your reference – A PDF is provided.
HB Pencil
Mop paintbrushes – Rosemary & Co Size 0/3 and 10/0
Daisy palette (for mixing watery paints)
Water bowl
Paper towel
Watercolour paper (I recommend Arches cold pressed paper 300gsm/140lb).
Paints (see colour list below). I use Winsor and Newton paints.
Paint colours needed:
Permanent Rose
Yellow Ochre
Olive Green
Payne's Gray
I've certainly been getting inspired lately by these beautiful flowers, and I hope you'll enjoy this mini class to paint your own loose watercolour roses.
If you do paint your own loose roses with a background, I'd love to see your results, so tag me on Instagram using the hashtag #jenniferrosegallery so I can see how you got on. You can also find me on Facebook.
Make sure you hear about my latest videos, and step-by-step guides all by signing up to my newsletter for FREE!
Please do leave me a comment below if you've enjoyed this class; I love hearing from you.
Love Jennifer Rose xx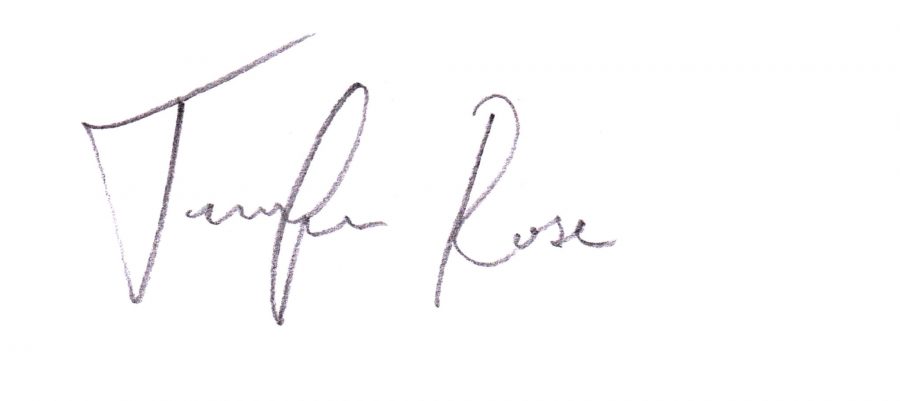 Sign up to be able to leave your comments and thoughts.
The information that you provide here will only be used to deliver relevant updates from me. You can unsubscribe at any time. Click HERE for my privacy policy.