Inspiration journal: [VIDEO] How to paint loose watercolour roses
[VIDEO] How to paint loose watercolour roses
I LOVE painting roses! They are so pretty to look at and absolutely gorgeous to capture in loose watercolour.
Romantic and sweetly scented, I've really been enjoying painting them recently. Creating the look of their overlapping folding petals in my loose watercolour style, I couldn't wait to drop the gorgeous watery pink hues onto the paper and see the paint travel in the direction my mop brushes took them. Including a blurred foliage background to my roses also creates lots of depth and context, bringing them perfectly to life.
In this free mini class in my good friend Anna Mason's online school, I guide you through the steps I followed to create the foliage background and overlapping petals to my loose roses .You could also use the techniques I show you in this class to create watercolour backgrounds for your other paintings too, whether the subject is in a realistic or more impressionistic style.
You'll see that I mask out the roses section so that I can paint the background first. I don't create an outline drawing for this painting, but instead I go straight in with my watery paint to achieve a loose result. To inspire me, I used a selection of photos I took as my reference and created my own composition to how I feel I wanted my rose painting to look. Why not try this too? Or you can just follow my own painting as your guide.
If you decide to paint loose roses with me in this mini class, I'd love to hear how you get on, so let me know how it goes in the comments below. And do also drop a comment if you enjoyed the video. I love reading them!
Love Jennifer Rose xx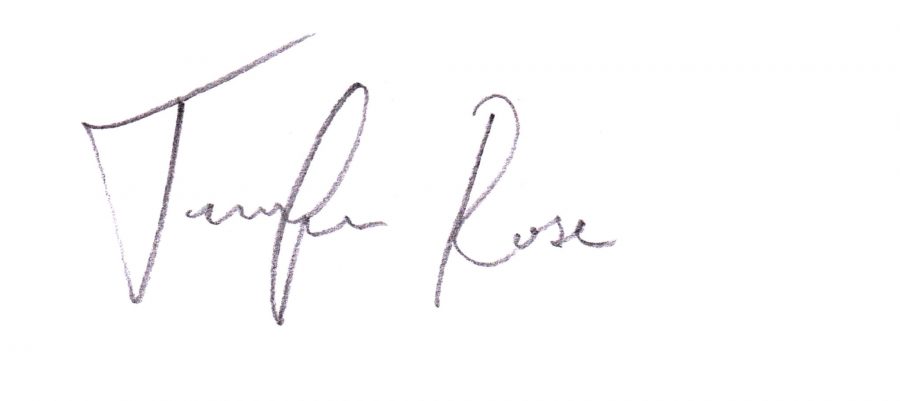 Sign up to be able to leave your comments and thoughts.
The information that you provide here will only be used to deliver relevant updates from me. You can unsubscribe at any time. Click HERE for my privacy policy.